The developer tests got progressively better in contrast as I increased the temperature and then increased the vitamin C.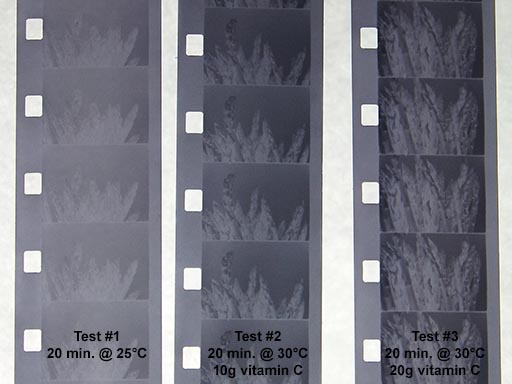 For the reversal tests, I wanted to see what increasing the vitamin C would do. The top test is a mushroom reversal with10g of vitamin C, the bottom is a mushroom reversal with 20g vitamin C.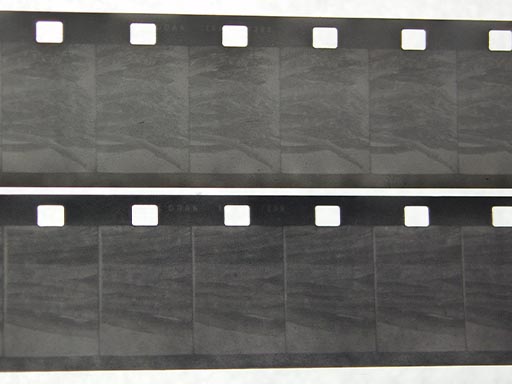 Mushrooms have been used to dye fabrics for hundreds of years. They produce a wide array of colour that come in creams, yellows, oranges, reds, purples, and browns. I was very excited to see how mushrooms would affect the film stock. I tried cremini mushrooms, which are also called baby bella, or mini portabella mushrooms. These mushrooms are botanically the same kind of mushroom as the larger and (older) portabella mushroom. If cremini mushrooms are allowed to grow into "adult hood" at some point in their size development they become full on portabella mushrooms.
Like many older living things, as a mushroom ages, it grows in size and also loses water content. I suspected that this might make a difference either in developer or tint.
During the making of See Weeds, there was a noticeable difference in the results with a dandelion developer made from spring dandelions to a developer made with autumn dandelions. It makes sense that the plant would lose some of its elasticity to water and aging, and the results seem to indicate that the plant's chemical composition has been altered but how does this really happen and what is happening exactly?
Below are some comparisons between the Cremini and Portabella tests.
I used 200 grams of mushrooms in 1.5 litres of water for both teas.
The portabella produced a darker tea.