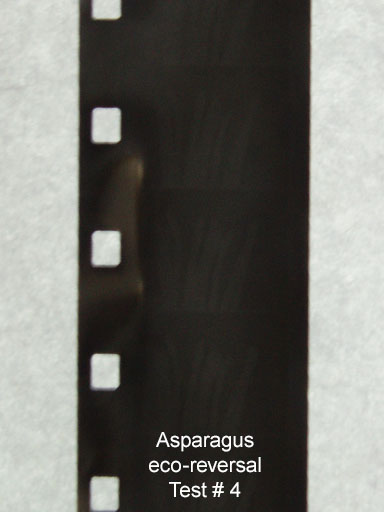 I gave the asparagus eco-reversal one more shot...being consistent as possible.
Still not very good results when it comes to the reversal process.
Sigh…all asparagus are not created equal.
The asparagus experiments were frustrating because I thought I has an amazing developer but I could not get the eco-reversal to work. I should be happy with this discovery, but I am a bit bummed out. It makes sense to have these results and I suspected that seasonality, freshness, and quality could affect the results of the developer. As mentioned before, there are no failures but discoveries that informs the next steps. All parts of the discovery process are important, but it is still a bit of a let down when you thought you had a very consistent plant and then things turn out to be different.
Do scientists get disheartened when something they thought was going to workout goes a different way? Perhaps the best thing to do is, sit with this for a bit, learn, and carry on.
I even found several articles with huge discrepancies in the phenolic amounts in asparagus - some had 141mg/100g another 75mg/100g but the majority averaged around 29mg/100g.
But maybe...it is not asparagus, maybe it is the reversal process?
I have been using the same eco-reversal process for the caffenol, blueberries, and kale. Could it be that the eco-reversal process is not working as well or is dependent or reactive with the eco-developer?